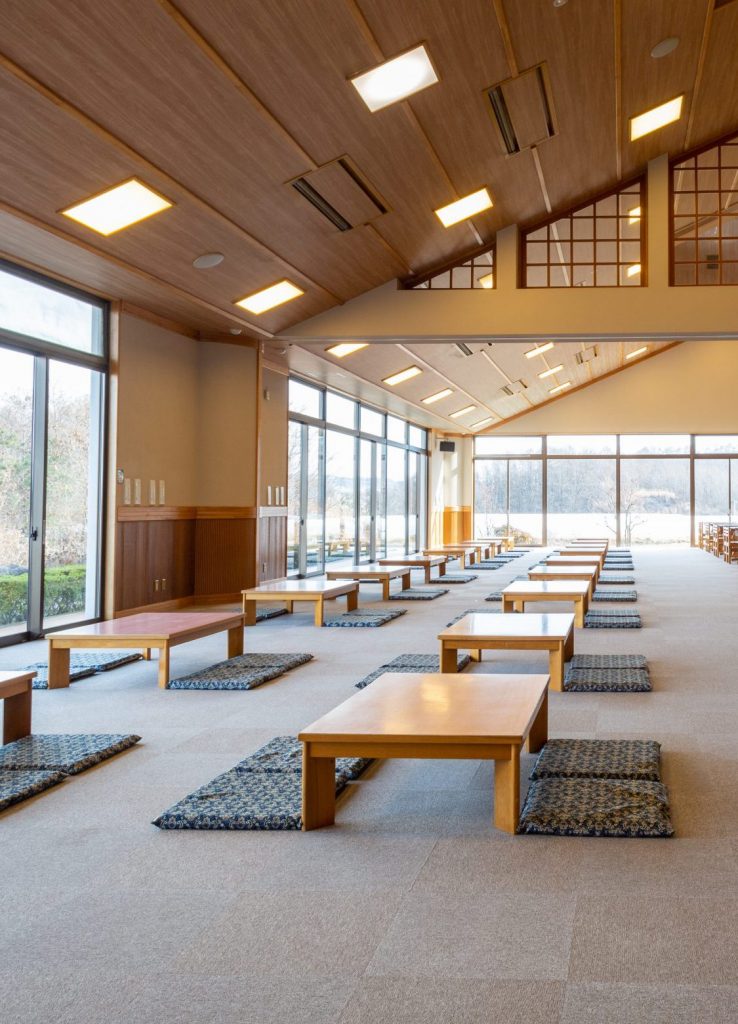 Cuisines with local ingredients such as Tateshina beef, Tateshina pork, handmade soba (buckwheat noodles), and Mochizuki Kogen soft-serve ice cream made with local milk are also recommended.
Aguri no Yu Shokudo
Rice is produced in Komoro, vegetables are purchased from the direct sales office of the annex, and the menu is particular about local production for local consumption and domestic ingredients.
The menu using Tateshina beef, Shinshu salmon, and the famous white clay potato is especially recommended.
Tateshina beef steak set meal
2000yen
Shinshu salmon rice bowl
(with rainbow trout roe)
1500yen
Aguri gozen meal
(availbale for a limited number)
1000yen
Tateshina pork fillet cutlet set meal
1000yen
(a la carte 850 yen)
Komoron miso croquette set meal
850yen
(a la carte 700 yen)
Croquette set meal
650yen
(a la carte500yen)
Ginger fried Tateshina pork set meal
850yen
(a la carte700yen)
Stir-fried vegetable set meal
650yen
(a la carte500yen)
Deep-fried horse mackerel set meal
600yen
(a la carte450yen)
Karaage (deep-fried chicken) set Meal
900yen
(a la carte750yen)
Rice and miso soup
150yen
Rice
100yen
Rice (Large)
+100yen
Miso soup
50yen
Rice bowl, Curry, Kid's meal
| Katsu-don (Deep-fried pork cutlet rice bowl) | 750yen |
| --- | --- |
| Oyako-don (Chicken and egg rice bowl) | 650yen |
| Sauce katsu-don (Deep-fried pork cutlet with sauce rice bowl) | 750yen |
| Roast beef rice bowl | 1000yen |
| Chuka-don (Starchy sauce rice bowl) | 700yen |
| Bibimbap rice bowl | 800yen |
| Negitro (minced tuna) rice bowl | 800yen |
| Tendon with rainbow trout | 1000yen |
| Curry with pork cutlet | 1000yen |
| Curry and rice | 650yen |
| 'Kid''s meal' | 500yen |
| Rice ball | 250yen |
| Hand-made tenzaru soba | 1100yen |
| --- | --- |
| Hand-made zaru soba | 750yen |
| Hand-made udon | 900yen |
| Zaru udon | 550yen |
| Kake soba | 550yen |
| Kakiage soba | 650yen |
| Kakiage udon | 650yen |
| Meat udon | 600yen |
| Ramen | 600yen |
| Miso ramen | 600yen |
| Spicy ramen | 600yen |
| Ankake yakisoba (Fried noodles with thick sauce) | 700yen |
| *Ankake yakisoba is not available in a large serving. | |
| Large (soba) | +200yen |
| Large (other noodles) | +150yen |
Burgers, Pizza, and Sides
Komoron miso croquette burger
350yen
Combination pizza
800yen
Cheese pizza
800yen
Gyoza
450yen
French fries
350yen
Salad
(Aojiso Caesar Sesame)
450yen
Edamame (Green soybeans)
350yen
Yose-Tofu
250yen
Asahi draft beer
Large
700yen
Medium
550yen
Small
450yen
Asahi bottled beer
580yen
Black Nikka highball (whiskey and soda)
380yen
Lemon sour
350yen
Wine (red/white)
650yen
Asamadake (Japanese sake)
370yen
Kanchiku (Japanese sake freshly stored)
700yen
Triangle bottle (shochu)
1200yen
Shochu bottle (barley/potato)
1700yen
Asahi Dry Zero
(Non-alcoholic)
350yen
Oolong tea

250yen
Orange juice
250yen
Apple juice
250yen
Tomato juice
250yen
Cola
250yen
Coffee(hot or iced)
350yen
Black tea(hot or iced)
350yen
Green tea milk
400yen
Matcha Milk soft-serve ice cream
500yen
Mochizuki Kogen soft-serve ice cream
(cup/cone)
350yen
※The photo is for illustrative purposes only
Tateshina beef steak set meal
2000yen
(a la carte 1750 yen)
Ginger fried pork set meal
850yen
(a la carte700yen)
Pork fillet cutlet set meal
1000yen
(a la carte 750 yen)
Croquette set meal
850yen
(a la carte650yen)
Stir-fried vegetable set meal
850yen
(a la carte600yen)
Karaage (deep-fried chicken) set Meal
900yen
(a la carte650yen)
Deep-fried chicken with soy sauce set Meal
900yen
(a la carte700yen)
Daily set meal
900yen
Curry with Chiken
700yen
Curry with pork cutlet
1000yen
Green onion salt pork bowl
750yen
Deep-fried pork cutlet rice bowl with Sauce
950yen
Chūkadon
850yen
Unadon(Grilled eel rice bowl)
1100yen
Additive-free Negitoro bowl
950yen
Shinshu salmon bowl
1000yen
Various children's lunch
(Spaghetti or Curry or Ramen)
)
650yen
Rice
200yen
(Large serving)
| | |
| --- | --- |
| Ramen | 700yen |
| Chilled Chinese Noodles | 850yen |
| Gomoku Ramen | 850yen |
| Gomoku Yakisoba | 850yen |
| Zaru Udon | 600yen |
| Kake Udon | 650yen |
| Salad Udon | 850yen |
| Zaru Soba | 600yen |
| Kake Soba | 650yen |
| Meat Sauce Spaghetti | 850yen |
| Various Large Servings | +200yen |
| | |
| --- | --- |
| French Fried Potatoes | 350yen |
| Offal Stew | 450yen |
| EDAMAME (Green Soybeans) | 300yen |
| Chilled Tofu (with Toppings) | 300yen |
| Spring Rolls (3pcs) | 500yen |
| Tempura ※Limited quantity | 800yen |
Mochizuki Kogen Soft Serve
400yen
Mini Soft Serve
250yen
Cream Anmitsu
600yen
Summer Only
)Shaved Ice
(Strawberry/Melon)
300yen
Ice Float
(Strawberry/Melon)
550yen
| | |
| --- | --- |
| Asahi Draft Beer | |
| Large | 750yen |
| Medium | 550yen |
| Small | 400yen |
| Asahi Bottled Beer | 650yen |
| Non-Alcoholic Beer | 400yen |
| High-Ball | 450yen |
| Lemon Sour | 450yen |
| Sake | 500yen |
Pepsi Drink
S:100yen

M:150yen

L:400yen
Pepsi Cola
Melon Soda
Orange
White Grapes
White Grape Squash
Iced Coffee
Iced Tea
Option Float
+250yen
◎For Banquets and Party
Shokado Bento 3000 yen ~ (including hot spring admission fee)
* Reservations up to the day before, OK from 1 person